Posted by MrNatch3L
[download]
- Play count: 1343
Size: 1,726kb, uploaded 2/11/2009 1:52:54 PM
Genre: Unknown/None Chosen / Playing Style: Other
Since nobody has managed to figure out what this tune is, I decided to rename it in honor of our friend Bill (mimspicker). The tune kind of feels like something you might play to say farewell. The tune originally bore a name suggested by Mike Gregory on the post at http://www.banjohangout.org/forum/topic.asp?TOPIC_ID=139585. but I'm sure he will not mind the change of title. You're listening to the All Natural String Band (me and Audacity) with the El Cheapo resophonic guitar, finger and flat picked 25-year old cedar top Takamine acoustic, and my Bishline Heirloom.
---
6 comments on "Farewell to Mims"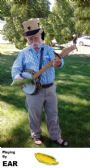 mike gregory Says:
Thursday, February 12, 2009 @2:50:43 AM
Suggested lyrics: --------------------------------- Scotland is even braver, So calm, she'll never waver No heroes need to save her, She'll be Okay! I say ,Scotland is a lot of funnies, Front of the kilts hang bunnies, Dead, but that's where the money's Hidden away! -------------------------------- Got nothing for the B part, though.

MrNatch3L Says:
Wednesday, February 18, 2009 @3:42:07 AM
Aw c'mon, Mike. That's too syrupy and sentimental even for me! :-D

plunka5 Says:
Wednesday, March 4, 2009 @8:30:06 AM
Robert, that was a beautiful tune! I'm sure Mims is smiling big time for the gesture! Thanks for sharing...

Debbielee Says:
Monday, October 26, 2009 @3:52:52 AM
I haven't been on the hangout in a while. I stumbled on your tune. It is absolutely beautiful. Thank you for sharing. Mims was on my friends list. I followed his posts the last year of his life. He was a strong man and loved his banjo and frends. Thank you for honoring him in this way.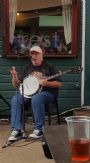 joemac Says:
Monday, February 15, 2010 @3:41:45 AM
beautiful, truely beatiful
Greg Connor Says:
Thursday, February 25, 2010 @6:56:46 AM
What a beautiful song and tribute to your Mom.
You must sign into your myHangout account before you can post comments.