Where Purchased: Virgil Lawson
Overall Comments
I really like being able to review new products. Problem is that there are so many high-quality bridges being made it's hard to differentiate among them. I have used a wide variety of bridges over the years. The first radically different bridge I tried was the Snuffy II. Since then, I have preferred heavier bridges on my banjos. In the past several years, I have used Scorpion, Kat-Eyez, Hatfield, Davis, Emerson, Sullivan,Grover, Purcelland several others. I contributed to the design on Jerry Rabun's Bamboozler and Bigfoot bridges. Recently I have used David Cunningham's Zebrawood/Katalox brides and Zebra/Padauk. It's tough to review a new bridge when I have so many good bridges already and I would hate to jeopardize some good relationships by comparing one to another. Bear in mind that every banjo has a different voice and we all have different preferences in sound. So this is not about which bridge is better, but how different the sound is.
Today, i received a Virgil Lawson New 2014 Design Bullfrog bridge in maple/ebony., 11/16" standard, 2.2 g. This bridge appears to be somewhat less bulky than previous models. It is very attractive bridge, somewhat evocative of the Art Nouveau period, with graceful sweeping arches and a slightly wider stance than other bridges. According to Virgil, he and I are the only ones to have this bridge so far.
The bridge is very well-made, great craftsmanship and clean. It has an ebony peg below the 3rd string slot and the ebony top is slightly arched to compensate for eventual sag due to to string pressure.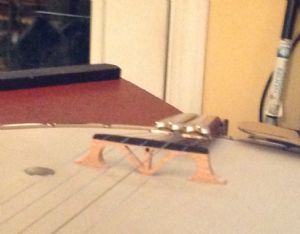 I tried the bridge first on my Fender Artist, my banjo of choice lately. The banjo is brighter than a typical Mastertone banjo. I have been using a Cunningham Z/K on it. The Bullfrog was not quite as bright and had less bite than the Z/K. The tone was well-balanced and the banjo was slightly louder with very good note separation. I would say there were fewer overtones and the notes were slightly "punchier."
I then tried it on my 28 Granada 40-hole AT. I have pretty much stopped using the Granada as I have become more fond of the flathead sound in the past few years. The bridge took some of the keenness out of the Granada. The sound had a slightly "rounder" tone and plenty of punch up the neck. My wife, sitting in the dining room on the other end of the house, thought I had moved into the living room, closer to her, because the banjo was louder and "punchier," as I had noticed on the Fender.
I then put the bridge on the RK-75, which is the closest thing I have to a flathead Mastertone right now. I had been running a Scorpion on it and was very satisfied with its almost-tubby Mastertone sound. The Bullfrog added a new dimension to the sound. Cleaner response and better note separation. Really clean noting and power up the neck. I'd say the bridge made the biggest difference on the RK-75 as opposed tot he Gibson and Fender.
Hopefully I will revisit this review when I can get my mike and Audacity set up again when my office remodeling is finished. I hope to be able to make some good sound comparisons using this bridge on all my banjos.
In summary, I like this bridge. I like its looks, the workmanship and the sound. I'd recommend this bridge as a viable member in the lineup of bridges that every picker should have. I'm going to leave this on the RK-75 for a while.
Overall Rating: 10