Posted by frailin
[download]
- Play count: 2288
Size: 1,108kb, uploaded 9/22/2008 12:14:25 PM
Genre: Old Time / Playing Style: Clawhammer and Old-Time
Woo-hoo! Woo-hoo! My new Chuck Lee all walnut Marble Falls with the Bill Rickard tubaphone tone ring (this one is called Alpha)! Woo-hoo! (I can't talk right now... gotta go PLAY!). Woo-hoo!!!
---
6 comments on "Frailin - Over the Waterfall (on Alpha)"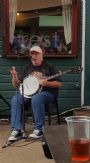 joemac Says:
Monday, September 22, 2008 @1:53:20 PM
really nice.what a lovely sound!!!

FiddlerFaddler Says:
Tuesday, September 23, 2008 @6:36:19 AM
Well, Craig, you certainly have earned yourself the moniker *Frailin.* The sound is exquisite, and you have played this piece commendably. Keep on frailin' and keep 'em comin'!

GerryH Says:
Tuesday, September 23, 2008 @2:51:34 PM
Lovely playing from a great sounding banjo! Thanks for posting this.
GerryH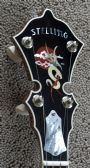 Patrick P. Says:
Thursday, September 25, 2008 @8:32:11 AM
Great, five stars for you !

David M Says:
Friday, September 26, 2008 @12:02:02 PM
Great stuff Craig, your new banjo sounds mellow and smooth with a pretty 'pop' and you play it sooo well mate....! Glad you're enjoying them.
mainejohn Says:
Sunday, September 28, 2008 @5:50:33 PM
The distinctive "Craig Evans" sound. Thanks for posting this.
You must sign into your myHangout account before you can post comments.