Posted by frailin
[download]
- Play count: 3328
Size: 1,173kb, uploaded 3/16/2007 2:31:39 PM
Genre: Old Time / Playing Style: Clawhammer and Old-Time
Well, I couldn't just stop at one. So this is a second dance number laid down on my pretty little Juniper! What a super banjer!!
---
11 comments on "Frailin - St. Anne's Reel"

dbrooks Says:
Friday, March 16, 2007 @4:38:19 PM
Great tune and a great sounding banjo. I just started to learn St. Anne's Reel, but I've got a long way to go to get the energy and musicality you put into yours.

stanger Says:
Friday, March 16, 2007 @11:09:01 PM
Whoo, Nelly! Gorgeous banjo, gorgeous tone, and goregous playing! You nailed it and hung it on the wall, Craig... nice job. Gotta get me on o' them Omes... regards, Stanger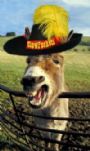 SlowPockets Says:
Saturday, March 17, 2007 @9:43:53 AM
I love it! That banjer sounds great as does your playing, You're an inspiration Craig.

salvatone Says:
Monday, March 19, 2007 @3:16:10 PM
Great sounding banjo and nice counter melody.
Salvatone
dhergert Says:
Wednesday, March 21, 2007 @1:33:07 PM
Great stuff again, Craig!
mainejohn Says:
Thursday, March 22, 2007 @10:12:26 AM
Absotlutely beautiful! I love the tone! I just got in on this whole thing today. You mean you no longer have this banjo?
mainejohn Says:
Sunday, May 13, 2007 @7:56:18 PM
OK...I just had to listen to it again...what I would give to play like that!

royce Says:
Friday, May 18, 2007 @9:02:33 AM
Though I'm a bluegrasser, you are my favorite CH player on the hangout. You're eat up with natural talent and Your always in the groove...

Nelson Says:
Sunday, May 20, 2007 @5:52:59 PM
Yeah, they are all right. Great stuff... is that a new shirt you are wearing?

chip arnold Says:
Sunday, September 16, 2007 @11:43:07 PM
This is a hard tune to play well. As always, you've played beautifully. And by the way, congratulations on the brand new wife. You done good!
BigRedWarEagle Says:
Friday, February 5, 2010 @4:43:11 PM
I really wish I could play this banjo as well as you did, Craig! I downloaded this to my iTunes account and play it regularly. You can't play this tune and keep a bad attitude...it brings a smile to my face every time. Play to the glory of God, my friend!!
You must sign into your myHangout account before you can post comments.