Posted by frailin
[download]
- Play count: 4478
Size: 1,603kb, uploaded 3/16/2007 2:30:20 PM
Genre: Old Time / Playing Style: Clawhammer and Old-Time
This is a favorite dance tune (I love to play), being played on my brand new, pretty little Ome Juniper (just came today! Woo-hoo!).
---
14 comments on "Frailin - Fly Around My Pretty Little Miss"

dbrooks Says:
Friday, March 16, 2007 @4:40:29 PM
Great playing, Craig!

Don Borchelt Says:
Saturday, March 17, 2007 @9:52:20 AM
One of my favorite tunes, and you do a really fine job with it. I really like the bold brushes in the second part. I'm gonna steal those! Nice, bright banjo. Real nice.
dhergert Says:
Wednesday, March 21, 2007 @1:29:32 PM
I'm no expert on CH, but you sound excellent. Wonderful sounding banjo too!!
mainejohn Says:
Thursday, March 22, 2007 @10:14:50 AM
Great playing and wounderful, rich tone. And to think you no longer own this? What were you thinking?
BigRedWarEagle Says:
Friday, March 23, 2007 @9:49:18 PM
Smartest thing you ever did,Craig! I think that banjo had something wrong with it. I'm glad I took it off your hands before it Caused any damage ;-)
Poor banjo is fumbling through bum ditty strums right now...that just ain't right.
Keep those tunes coming - you have some special talent.

royce Says:
Sunday, May 13, 2007 @9:59:34 PM
Craig...you definitely have a good "Groove" in your playing...Your way better than purty good. You a darn natural....I like all your stuff.
Royce

Nelson Says:
Monday, May 21, 2007 @1:02:55 PM
Yeah... Woo hoo!

Beacon Says:
Sunday, June 17, 2007 @9:19:42 PM
Wow, amazing stuff. The banjo has a great sound too :D

Tikron Says:
Friday, June 22, 2007 @8:33:26 PM
Love that OME. [11" or 12" rim?]. It really sounds great and has alot of potential for diverse sounds (when played by someone - such as yourself - who can pull them out of there.
REAL FINE.
Ron
)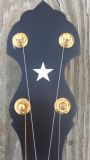 RWJonesy Says:
Monday, March 10, 2008 @10:46:12 PM
Nailed that one...nice job Craig !!!

Lorix Says:
Wednesday, April 23, 2008 @4:08:03 PM
What playing... I get an adrenalin rush just by listening...... :) and yes WOOHUU!!

festusbug Says:
Tuesday, July 22, 2008 @12:47:24 AM
Great play and particularly love the slightly weirded B-part.

Bongshang Says:
Saturday, September 6, 2008 @4:26:51 AM
Oh yes! That's the stuff.

fatbanjo Says:
Tuesday, October 7, 2008 @4:07:15 AM
Lots of energy in that one Craig....keep em coming
You must sign into your myHangout account before you can post comments.