Written/Posted by Paul Roberts
[download]
- Play count: 634
Size: 3,866kb, uploaded 1/2/2009 8:31:12 PM
Genre: Unknown/None Chosen / Playing Style: Clawhammer and Old-Time
This little melody came to me this evening as my soul was needing some nourishment. 5-string cello banjo - tuned octave Double C, using a bone frailing pick. Tomorrow I'll try some overdubbing.
---

Don Borchelt Says:
Friday, January 2, 2009 @9:18:53 PM
While we are all straining to reach for extraneous notes, Paul is recording the sound track for our lives. This is wonderful, like hummingbirds dancing. The very best use of the cello banjo I've heard yet. When tomorrow gets here, I sure wouldn't add anything to it .

ELWOOD Says:
Friday, January 2, 2009 @10:03:18 PM
I am tranced and calm and excited by this outstanding Original, Nice work and effortless for your listener................Steve
Greg Connor Says:
Saturday, January 3, 2009 @8:45:30 AM
What a wonderful piece Paul, and such an original way to play. I like the tuning, and the voicing of the Cello.

CageyK Says:
Saturday, January 3, 2009 @9:27:09 AM
Man, Paul, that is sooooo sweet! An awesometune, well-played. Thanks!!!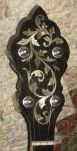 Pine Cone Says:
Tuesday, January 6, 2009 @10:25:28 PM
This just sound so good. I guess I HAVE to get one of these banjos. Love the tune, just kinda infects your soul... Like Don sez... "... the sound of our lives..." Very nice!

Loo P. Says:
Wednesday, January 14, 2009 @9:28:55 AM
Just Beautiful! Thanks so much!
f#dead Says:
Friday, October 30, 2009 @6:41:10 PM
Paul, you already know I'm a big fan. This is another great reason why. thnx for posting

Tom Berghan Says:
Monday, November 23, 2009 @9:09:14 AM
Extremely original. I like what Don wrote "Sound track to our lives." It is wonderful. OK, now you have to tell me about this bone frailing pick and about the technique . . . is the drone accomplished by alternating thumb and finger really fast with punches thrown in for the melody? You keep the rhythm perfectly. I would believe it if you told me "I used dulcimer hammers!" It is very cool Paul!
You must sign into your myHangout account before you can post comments.