Monday, October 15, 2018 @12:40:49 AM
BAS strikes again. Not an impulse though, this was a methodical search here lately and the right banjo I think came along. About 10+ years ago, when they could still be had new for not too bad a price, I always had in mind to get an RB-3 Wreath. I never got around to it and then went in other directions with vintage instruments. Then Gibson quit making banjos of course, but that's no real hindrance - a dozen or so RB-3's are probably easily for sale online at any one time, although asking prices seem to be up lately. I wasn't stuck on getting something from the Greg Rich era, but I was thinking of getting one a little bit older just to be more certain of getting one with a Kulesh ring, which was what I thought I wanted.
I found and bought a 1995 RB-3 that turned out to be a real honey. All original parts and case, and as expected a Kulesh ring and factory Gibson USA flange. This one however is the standard leaves and bows inlay. I did say I had a Wreath in mind back when, but in fact I'm doing a build project with a mix of RK/Golden Gate/Prucha parts, including a fiddle-head wreath neck, so I won't actually need or want another wreath now. And to me the flying eagle pattern, while classic, is pretty much done to death these days, Reno/Crowe style or not. But the "standard" pattern I actually find to have a very pleasant simple and understated elegance, and is classic in its own right.
The first thing that I think makes this banjo special is the condition. It's more than 20 years old now. All of the white binding (or the lacquer rather) has aged to nice dark golden yellow that just looks great. And all the nickle hardware has a very nice patina all over - it still has a slight luster, but doesn't gleam. It's all just a nice satin gray almost. This includes the original tuners, which look great (or old and gray, depending on your perspective). I have the polish to restore it like new, but I wouldn't actually clean it for anything. The mahogany finish was also to my preference - whereas early ones I've seen were kind of a lighter chocolate brown, this particular banjo is a very attractive darker reddish-brown. It's just gorgeous. The only sort of build "defect" is that the resonator neck notch is too wide and off-center - there is about a quarter inch excess gap on the bass side only. Oh well. There is some faint finish checking running mostly with the grain on the resonator back, and only a little bit near the hand stop on the neck. There's enough aging, patina and faint wear that I can tell this banjo was out of the case a lot. It was no closet queen - it was handled (very gently) a considerable amount and probably taken to jams and festivals, outdoors, etc. But the really amazing thing is that the frets, which appear all original, have virtually no discernable wear on them, even in the usual places. The rosewood fretboard, which is not as nice as on my old RB-250, has no real gouging or wear. It has a like-new Remo wagon wheel frosted head. Whoever owned this banjo for 20-something years must have liked to hold it a lot, but barely could or would play it. You probably know the type, and in this instance I thank them. They didn't know they were just gently aging this banjo for me. It's like I went back to 1995, walked into a Gibson dealer, asked for a brand new RB-3 "except make it look really cool and aged" and tah-dah. But whatever quality of finish and construction that is attributed to Greg Rich era Gibson reissues seems to be fully shared by this slightly later model. Everything fit and finish is high quality.
The banjo does seem to have had a professional setup and going over at some point, probably many years ago. There is a small neck shim and the 5th nut was removed, filled and replaced with a spike. It came with a nicely aged Snuffy Smith bridge that's probably as old as the banjo. The bridge was compensated and Crowe spacing, but neither is my preference. The offset tuners have no Gibson branding but seem original - I think these are Waverly tuners. They are a tad stiff and touchy - they look cool but nothing special. I'm probably going to install some D-tuners. The banjo came with very light strings and at first I didn't entirely like the tone. Bottom end was a little weak, 5th string overtones like a mosquito buzzing, strings slipping out of tune. But it was super sensitive and responsive, very sweet up the neck, a bit overpowered in the Y position. I could still sense that the rest of the pot itself was already pretty well tuned and I have so far left it entirely alone. I started by swapping in an old Sullivan factory floor bridge I had on hand, standard height and spacing. This bridge is dense and powerful and probably a very good fit for a mahogany banjo. Overall it didn't make a lot of immediate difference, but was at least more comfortable to me. I played it for a while and then finally installed my preferred string set. It's amazing what difference gauges make, as the banjo immediately took on more of the character I get on my other banjos where I always use the same strings (basically the old Gibson Earl Scruggs medium gauge, now found in my preferred Black Diamond "Light" sets). Anyway the banjo immediately improved some, but I let the strings settle in a while and played it off and on before making a finally judgement. At this point that seems to have been all the difference I needed along with the bridge swap, as I think the banjo now sounds wonderful, with improved 4th string, no annoying overtones, and Y position under control but still very sweet.
So the tone is the second thing that makes this banjo special. My closest frame of reference is my 63 RB-250. These are similar and somewhat related banjo models, if not exact equivalents. My 250 is quite a good sounding banjo, and there is definitely some similarity in quality and character of tone. Now of course the 250 has an old pre-EPA head that's pretty worn, older strings, different plating (chrome), setup variations, etc. I find my RB-250 is louder, a little bit darker in first position, dryer, and a little less complex. The RB-3 has a bit more growl and is a tad brighter, more nuanced, less piercing and sweeter up the neck. The variations are mostly slight however. Is it going to impress someone who regularly plays a really nice pre-war or all the best boutique builds? Maybe not. To them its just another old RB-3 reissue maybe, but I'm really very happy with it.
Finally, I know for the reissue Gibsons as far as desirability goes the Granadas are probably tops, ESS are super popular, and everybody really loved the Crowe 75 and the Blackjack. Of course 3's must have been popular too since they seemed to have built a lot of them. But I always wanted one of these because I think the RB-3 is the unsung classic quintessential Bluegrass Mastertone of both the classic and reissue era. Not "iconic" per se like a Granada maybe, but just a solid journeyman Bluegrass banjo all around. And historically compared to a 75 in the classic pre-war era the few early flathead 3's from around 1930 or so seem like more "dignified" builds, even if they had inlay variations, whereas the later 75's almost all seem like glorified floor sweeps and dumping grounds for mixed leftover parts. Not that this really affects the re-issues, but, blah blah, I just wanted an RB-3 and now I have one. So here's to the humble RB-3! Next time around, which ain't this year, I'm looking for a Stelling though, and then we'll see about collecting any more Gibson reissues or conversions.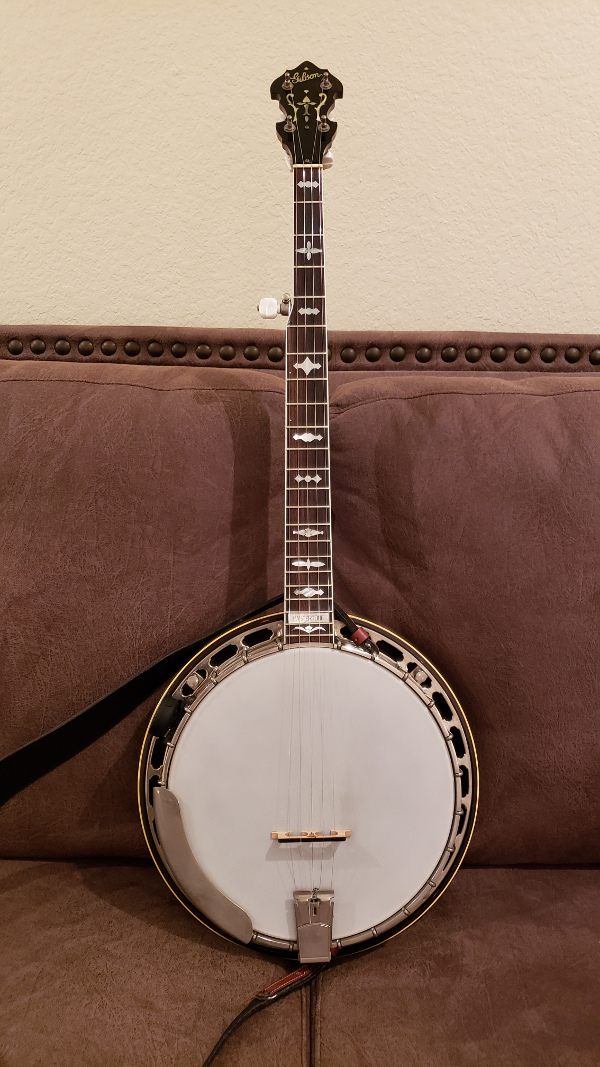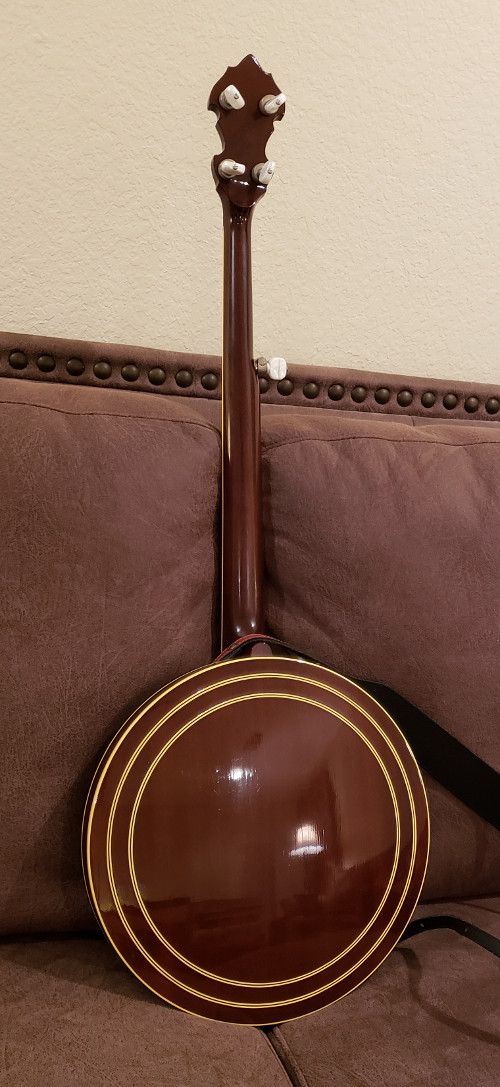 Add Comment