Tuesday, August 7, 2007 @6:31:45 PM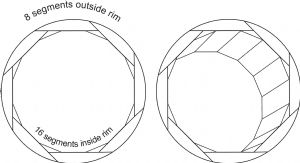 Visit www.helixbanjos.com
The Helix rim is just like a shower curtain hung from a curtain rod, Amber Waves of Grain, an 8 panel curtain cut at a 45.
My rim is called a 'build up'. It's like a barber pole, a wagon wheel, a stained glass window arc, thus Helix, an ancient Roman Arch. The music goes down away from the tone ring at a 45 degree angle. The Helix rim is a true 75% solid hardwood rim, the neck mounts through solid wood, we alone do that, and the virtual depth is 4.25". It's an 8-block octagon rim, and has a characteristic and unique optical illusion, an octagonal cylinder 3" high. Like a lighthouse.
Helix rims are 8 solid blocks from top to bottom with only 8 joints reinforced by 8 glueblocks cut from the ends of each block. Simple, strong, gorgeous rims that 'luminesce.' There is Chatoyance "Like a Cat's Eye" the light shows where the music will go .They vibrate cleanly, the rim now sings.
I love the traditions, I Iove to innovate
6 comments