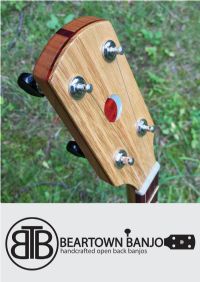 Luthier Since: 2015
Listing Created: 12/6/2018
Listing Updated: 12/6/2018
More About Me
Beartown Banjo is the builder of block rim open back banjos. Each Beartown Banjo is the product of attention and respect to the wood, and to the music.

The primary woods at Beartown are hard maple, cherry and black walnut from New York and Pennsylvania. Sapele Mahogany, Bubinga, Jatoba (brazillian cherry), and Purpleheart are some of the more exotic (but sustainable) woods utilized. Necks are laminated with 3 layers, and block rims are hand built and turned in house. The most common setup is 25.5? scale length, 11? block rim, 2-way truss rod, 5th string tuner at 5th fret, custom Beartown curved bridge. If you are interested in a custom built banjo or would like to know about currently available instruments, please email (beartownbanjo@gmail.com) or call me 607-275-1674 to discuss options.

You'll find these instruments sleek and simple, with minimal inlay and ornamentation. This opens the window into seeing the beauty of the wood that holds the soul of the instrument.