For those of you who enjoy my banjo music I wanted to let you know that I've taken a recent interest in learning blues guitar and harmonica. I can already play some blues guitar, both fingerstyle and electric improvisation but I've always wanted to do a deep dive into the genre and REALLY learn it inside and out. So, I've dusted off my 6 string electric guitar and am enjoying taking the pentatonic minor scale into uncharted territory! I've also set a goal to learn blues harp (an instrument I have never really played). I have absolutely no doubt that banjo fever will return and I still play my instruments frequently, but for now I feel compelled to follow my muse and see where it takes me!
---
9 comments on "Following My Muse..."
Laurence Diehl Says:
Tuesday, January 20, 2015 @5:01:52 PM
Rick, I am sure that whatever you decide to do will be cool. I used to play a lot of Robben Ford.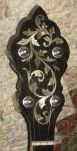 Pine Cone Says:
Tuesday, January 20, 2015 @8:42:14 PM
Been there...
Done that...
Came back to more of a banjo focus.

Still like both blues and banjo. No need to limit one's musical interests. Have fun!
Frailblazer Says:
Wednesday, January 21, 2015 @5:42:37 AM
Thanks for the support guys! Banjo and blues have quite a bit in common too.
Robben Ford is a great "uptown" blues artist.


rickhayes Says:
Monday, January 26, 2015 @8:16:40 AM
Enjoy the journey Rick, and share it with us if it suits you.
Frailblazer Says:
Monday, January 26, 2015 @8:43:36 AM
Thanks Rick.

ramjo Says:
Saturday, January 31, 2015 @3:13:24 PM
Ric, please let us know where we can hear what this journey's like for you. I can't wait to hear the country and electric blues players when they come out the other side of the Frailblazer!

BTW love the graphic. Cubist Blues--your album title. :)
Frailblazer Says:
Tuesday, February 3, 2015 @1:22:27 PM
Thanks Robert. I may post some blues noodling here on my blog page.

I love the artwork too and found it online. I have no idea who created it.

jimh269b Says:
Friday, February 27, 2015 @8:49:40 AM
hey I bet,just bet that is some fine stuff,Ric hey been a long time I hope all is ok,
Frailblazer Says:
Friday, February 27, 2015 @1:36:46 PM
Hi Jim!!! All good here and hope the same for you. I'm really lovin' learning blues guitar (again) and I'm making good progress. It's so much fun to improvise completely on the fly in real-time. I will post something soon!

Ric
You must sign into your myHangout account before you can post comments.