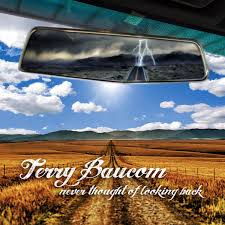 I have been a fan of Terry Baucom's banjo playing and bass singing for many years. I was introduced to bluegrass music when a friend gave me a Doyle Lawson tape many years ago. Since then, I have listened to Mr. Baucom play with several different ensembles including Doyle Lawson and Quicksilver, Boone Creek, IIIrd Tyme Out, Carolina, and Blueridge. In all of these groups, Terry Baucom demonstrated that he is the "Duke of Drive." His banjo playing is always rock solid and based firmly in Scruggs style. He adds in his own touches to form the type of banjo lead and driving backup that can be heard on many of the top charting bluegrass hits of the past 20 years. Terry's new album, "Never Thought of Looking Back" displays his style and shows us how well it can work in many different bands.
First of all, this album is different than other "solo" albums that I have heard from other banjo players, which typically have many instrumentals and a couple of vocal numbers thrown in for variety. This album has NO INSTRUMENTALS! This fact doesn't bother me because I have never been big on instrumental numbers anyway. I guess I get bored too easily. Anyway, nine different vocalists are featured in the 12 songs on the album, which gives the album more of the feel of a bluegrass sampler album or a "Terry Baucom and Friends" album.
I am a fan of the more up-tempo numbers and this album doesn't disappoint. Nine of the twelve songs are medium to fast songs that Terry does a terrific job "driving" with his banjo. I feel like any of these songs could be released as singles and make their way up the bluegrass charts. With special guest vocalists Buddy Melton, Larry Cordle, Sam Bush, Marty Raybon and Tim Stafford, the listener gets a little insight to what the popular bands Balsam Range, Lonesome Standard Time, the Sam Bush Band, Full Circle, and Blue Highway would sound like with Terry Baucom on banjo. Let me go ahead and tell you that Mr. Baucom would sound phenomenal with any of these bands!
There are a few unique songs that had me wondering who the vocalists were and how the songs were chosen for this album. I had never heard of John Cowan, Jon Randall Stewart, or David Mayfield before listening to this CD. I did a little digging and found out that the rock-and-roll voice I was hearing on the song "No One But My Darling" was not Jon Bon Jovi, but was the former member of the New Grass Revival, John Cowen. I really like the bluesy version of the song and have listened to several of his other songs on Youtube. David Mayfield sounds quite a bit like James Taylor to me on a smooth song that tells a story entitled "Short Order Time." He is a very talented artist and you can check out his group, the David Mayfield Parade to hear more. John Randall Stewart is a producer, songwriter and artist with ties to Lorrie Morgan. Emmylou Harris and he co-wrote the hit song "Whiskey Lullaby" made famous by Brad Paisley and Allison Krauss. Mr. Stewart does a fine job on the song "You Live in a World All Your Own."
The most puzzling song to me was John Schneider (aka Bo Duke from the Dukes of Hazard TV show from the 1980's) remaking his #1 country hit from 1984, "I've Been Around Enough To Know." I have always liked that song because I was a big fan of the Dukes of Hazard and loved Country music in the 1980's and early 1990's. The question I have is where did Terry Baucom meet John Schneider and why did he choose the song for this album? I'm sure there's a good story there somewhere!
The other instrumentalists on the album truly are an all-star lineup: Sam Bush-mandolin, Jerry Douglas-dobro, Wyatt Rice-guitar, Aubrey Haynie-fiddle and Steve Bryant-bass. A special nod goes to Sam Bush on the two vocal numbers he does, "Just Ain't" and "What'll I Do?" Mr. Bush always brings a certain energy to his performances that makes me smile. Terry Baucom's banjo playing is solidly in the mix, however there were no WOW moments in his banjo breaks for me. He seemed to be content to blend with the band and the vocalists instead of trying to dazzle the listener with a bunch of fancy licks. I have a feeling that this was his choice to let the music speak for itself. It worked for me, but I can see where others might be slightly disappointed if they were expecting a "BANJO" album.
Because Terry Baucom always comes across as a soft spoken man and the fact that his banjo playing is so traditional in sound, I think we tend to forget how much of a pioneer he has been for the progression of bluegrass. Boone Creek, Doyle Lawson and Quicksilver, and IIIrd Time Out helped paved the way for the bluegrass we hear today. His new album, "Never Thought of Looking Back" has more than enough cuts to keep the traditionalists happy. There are also plenty of unique songs and non-traditional vocalists to attract those who may desire something more progressive. My only criticism is a personal one: I would have loved to hear Terry sing bass on a gospel quartet number. Maybe I will get my wish on the next album?
RATING: 8.5 out of 10
---
1 comment on "Album Review: Terry Baucom – Never Thought of Looking Back"

crappiejohn Says:
Wednesday, December 11, 2013 @3:01:55 PM
Terry is one of my favorites and you did a great job on this article!
KEEP UP THE GOOD WORK.

You must sign into your myHangout account before you can post comments.