Posted by fatbanjo on Sunday, March 29, 2009
Ah they were fab..more dynamic than last time I thought,,,and such a nice bunch of guys. My mate won the first prize in the raffle..a Telecaster and I managed to keep my bowels intact and play a blinder...although I do think northerners need to smile more...talk about cracking a walnut!!
---
7 comments on "The Krugers at Eaglemusic"

Jonno B Says:
Monday, March 30, 2009 @2:37:42 AM
Very much enjoyed your set, having seen you and listened to your workshop last year at Eagle Music.

AnsacsteveOLD Says:
Monday, March 30, 2009 @4:07:44 AM
Shame I missed it this year hope to catch it next year. As for lack of smiles, it could be that the cloggs pinch a bit.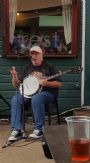 joemac Says:
Monday, March 30, 2009 @4:24:12 AM
WEll done Paul mate, proud of ya son!!!!!!!!

Jane C Says:
Monday, March 30, 2009 @1:44:49 PM
Well done for containing yourself Paul. Us Northerners don't give much away but we're smiling on the inside, tight clogs or not.

fatbanjo Says:
Tuesday, March 31, 2009 @4:17:58 AM
I puts it down to climatic air pressure!

TopCat Says:
Thursday, April 2, 2009 @2:28:46 PM
OI!! Cheeky beggar...we're very friendly in Yorkshire I'll have you know. I did like your T shirt though.

fatbanjo Says:
Friday, April 3, 2009 @4:39:05 AM
Ok Ok Ok maybe with hindsight thats not entirely true and maybe I was a bit intimidated by the Mighty Krugers and MR & Mrs Deer 'un'....slightly thrown by the fact I had to go on first as pesky Tom Napper wasn't quite ready...and if I'd relaxed more maybe I would not have drawn such a harsh comparison of Yorkshire folk....grovel grovel hiss spit hiss spit apology accepted?
You must sign into your myHangout account before you can post comments.