Posted by banjo_nut on Thursday, December 25, 2008
My wife and I took our girls to one of our local nursing homes yeasterday(CHRISTMAS EVE) to hand out cards my girls made for them out of construction paper and to play banjo while my girls sang CHRISTMAS CAROLS. Despite my mistakes as a begginner we had a glorious time ! What a great feeling seeing the faces of the sick elderly folks light up as my daughters (ages 17,14,12,9 years and the baby 23 months) handed out those homemade cards and gave those folks a big hug with a merry CHRIST-mas. Then when I broke out my banjo and began to tune those elderly folks began to cheer like a group of teenagers. Despite my mistakes as a begginner those folks loved every moment of the 45 minutes we played and sang.(well my girls sang I played) There is no greater feeling than knowing we made someones CHRISTMAS a little more special. Not because we can say look what I done but because of knowing we brought a moment of happiness to the lives of those who needed it. Even if it was only for a moment in time I still thank GOD we could show a little CHRIST in someones CHRISTmas.
---
10 comments on "CHRISTMAS CAROLING AT THE NURSING HOME !!!"

pauwac Says:
Thursday, December 25, 2008 @5:41:51 AM
Good for you. My wife takes my daughter and other Girl Scouts to nursing homes here in Chicago, with similar results. Sounds like you have the right idea about Christmas and family.

mgoers Says:
Thursday, December 25, 2008 @6:23:40 AM
It is a great feeling! My musician fiance & I usually play Christmas tunes at a retirement home every year. This year, we played at Hadden Hall in Wilmington, NC.

Regards to you & your family. Have a joyous Christmas.


kcjc69 Says:
Thursday, December 25, 2008 @8:33:58 AM
Greg,
Those are feelings that I wish more would pass on. Good too see that you and your family shared the joy of the season with others.
God Bless and heres to wishing your family the best that CHRISTmas has to offer.
Jim

twayneking Says:
Thursday, December 25, 2008 @7:41:46 PM
There is nothing like giving gifts like that at the holidays. We went over to the home of an elderly lady across the lake that my wife does home health care for during the week. We spent the afternoon going through my Christmas song book.

What fun to give the gift of music!

Tom

FiddlerFaddler Says:
Thursday, December 25, 2008 @9:23:05 PM
What an excellent thing to do as a family. Teaching your children to serve the less fortunate, and being involved as a family in ministry - priceless! Mister, I don't know you or your wife personally, but I think the world of you as parents and as servants of the One Who loved us and gave Himself for us. You brought tears to my eyes and made my day. Keep up the good work.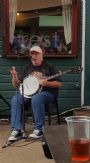 joemac Says:
Friday, December 26, 2008 @6:53:20 AM
I agree with fiddle faddler...well done Greg.

garfield55 Says:
Friday, December 26, 2008 @5:49:01 PM
I agree wholeheartedly with the others about you and your family's commitment and contributions. Bringing warmth and entertainment into the lives of nursing home residents is indeed a positive reflection on you and your children.

jeremy blankenship Says:
Friday, December 26, 2008 @9:03:57 PM
That is great man. My family band did that alot when i was growing up. They are very pleased to hear music. It is a highlight for the folks there. Good job and GOD BLESS!!!

Jane C Says:
Sunday, December 28, 2008 @11:47:20 AM
Well done Greg, a public performance, that takes a lot of courage, I'm glad you had such an appreciative audience, I bet they loved you.
banjo_nut Says:
Sunday, December 28, 2008 @11:56:36 AM
Thanks everyone for your kind words and support.
You must sign into your myHangout account before you can post comments.