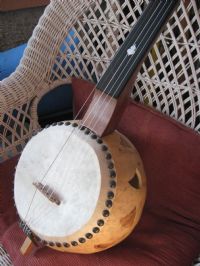 Teaches Lessons: In Person
Styles: Clawhammer and Old-Time
Levels: Beginner, Intermediate, Advanced
Teacher Since: 1980
Pricing: $40/hr
Listing Created: 11/16/2011
Listing Updated: 11/16/2011
More About Me
I have been teaching guitar and banjo for about 30 years, and have played professionally for most of that time. I give lessons and direct ensembles at the Community Center for the Arts, in Urbana, Illinois. I am also an ethnomusicologist, on the faculty at Illinois State University.
Comments
---
Tom's a great teacher! He's an expert at breaking large concepts into manageable bites, and explaining things in ways that get the point across. He'll start you out on basic techniques and make sure you're doing things correctly so you can make progress and not hurt your hands. Once you get to a point where you can play a bit he'll start showing you ways you can make your own variations on the tunes you're learning. He's patient and encouraging, and he's a fantastic player. It's obvious that he loves the banjo, and it's lots of fun when he plays along with you in lessons! - rkearton
Tom is the real deal. He survived, as most of us did, an early brush with rock and roll, but it didn't hurt him much. Once he picked up the banjo all that didn't matter. He took his proficient chops, excellent ear, and huge dollop of taste and honed himself into an excellent player. I have both played with Tom and worked with him at a summer fiddle camp for a number of years. [Side plug -- the fiddle camp run by Robin Kearton/Champaign Country Community Center for the Arts is a real gem. All budding string band musicians, they teach much more than fiddle, should check it out.] He's a delightful, knowledgeable guy to be around, a marvelous musician, and great teacher. One of the hardest classes to teach are those with a relatively large number of students at different levels. I have seen Tom engage everyone in such settings time after time. If you want to dive deeply into any style from southern Appalachian to Quebecois music (he's one of the best at this) Tom is your man. If you have a group of high-energy 6 years olds who need an introduction to the banjo and America's rich musical foundation. Get Tom. For everything else in between? Tom. - Stivini61
It was Tom's playing that got my sons an I interested in clawhammer banjo in the first place. We started lessons with Tom not knowing how to hold the dang thing, and he patiently and quickly had us playing music. As our skills improved, Tom revealed more and more secrets of this amazing instrument. We always looked forward to our lessons. I would recommend Tom as a teacher to anyone wanting to learn to play the banjo. - pkryan
a talented musician and a caring and patient teacher. - Jerald Bonds
You must sign into your myHangout account before you can post comments.