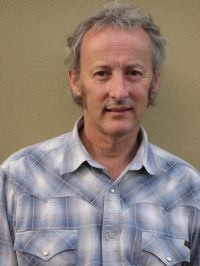 Website: petersomervillebanjo.blogspot.com.au
Teaches Lessons: In Person
Styles: Bluegrass (Scruggs) , Clawhammer and Old-Time, Other
Levels: Beginner, Intermediate, Advanced
Teacher Since: 1980
Pricing: $30/half hour or $55/an hour
Listing Created: 11/27/2011
Listing Updated: 10/26/2012
More About Me
Peter Somerville is Melbourne's most experienced banjo teacher. He teaches exclusively banjo, offering specialized instruction in this one instrument rather than superficial knowledge of a number of instruments. He is a true banjo specialist able to teach all levels across a range of styles.
Peter has been playing banjo for over 30 years. He has played in bush bands, bluegrass bands and Irish bands and recorded with several of Australia's best-known musicians, including Paul Kelly and Renee Geyer. As well as bluegrass in 3 finger style, Peter also plays and teaches clawhammer banjo. He has also developed his own highly effective (and user-friendly!) method for playing many Celtic tunes, which he has collected in his recently released book Celtic & Australian Tunes for the 5-String Banjo (available for purchase here) . Check out Peter's Banjo Hangout homepage for a range of his latest tabs and tunes.
Peter teaches both by tab and by ear, depending on students' learning preferences. He wants his students to really play music, not just copy tunes from tab, and leads them through a step by step approach to working out their own breaks to songs and tunes. Peter loves helping people advance on banjo and enjoying the journey. He provides tablature plus his own instructional CD and encourages students to record the lessons or specific tunes for home practice.
Peter is flexible with times, and teaches across both day and night times on weekdays. He usually has some good student banjos for sale, which he has set up himself to get the best possible sound from each instrument. Banjo is Peter's living: teaching, gigs, recording.
Call Peter on 0439490716 or email petersomerville@hotmail.com
Comments
---
There are currently no comments.


You must sign into your myHangout account before you can post comments.