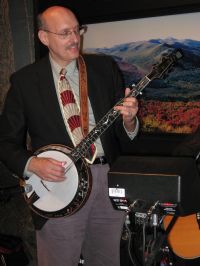 Teaches Lessons: In Person
Styles: Bluegrass (Scruggs) , Other
Levels: Beginner, Intermediate, Advanced
Teacher Since: 1976
Pricing: $50/ lesson-1 1/4 hrs plus
Listing Created: 11/16/2011
Listing Updated: 10/8/2012
More About Me
Teaching bluegrass banjo for 35 years; head of bluegrass beginner track at Banjo Camp North since 2003; over 85 online banjo instructional articles published in Mel Bay "Banjo Sessions" and Angie's Banjo "Silver Strings;" articles published in Banjo Newsletter; Bob was featured in May 2011 Banjo Newsletter; workshop chapter in Gene Senyak's 2008 book "Banjo Camp!;" records and performs with the Dyer Switch Band and Thirteen Feet of Bluegrass.

Contact Bob at arobanjo@aol.com, on the phone at 518-475-7926 or here at Banjo Hangout.

From Bob's bio on the Banjo Camp North website-"Tailored instruction, patience, humor and going the extra mile to help students learn are hallmarks of his very popular teaching style."

Here is what some of Bob's students have said-

"Bob is one of the best teachers of any kind I've ever had. Unlike some professional banjo players who can't teach, he is a superb evangelist for the instrument."
JH, Albany. NY

"You're able to combine extraordinary talent with compassionate regard for the beginning student-- a rare quality. I really appreciate having an instructor like you, who can play really well and is a wonderful teacher at the same time. This combination is not very common."
LH, Montreal, Canada

"While Bob's knowledge and experience are evident, his ability to inspire and just have fun are what keeps me going back."
LM, Saratoga Springs, NY

"I've taken lessons from Bob for two years and he has helped my learning curve an amazing amount. One of the best things about learning from Bob has been that he has taught me how to play the banjo, not how to play tab."
BH, Albany, NY

"I've been taking lessons with Bob and I would absolutely recommend him to anyone interested in taking a beginner - advanced lesson. Over the years I've taken lessons from others and have never once learned as much as I did the first time I sat down with Bob. Bob's knowledge of the banjo and music theory combined with patience and devotion make him an ideal teacher."
TA, Albany, NY

"... you have a natural gift for teaching banjo to a person of any age..."
DL, Pine Bluffs, Wyoming

"Bob also makes the basics fun. The subject matter and level of expertise are always spot on, and his hand-out materials still hold a place in my library. I would recommend Bob to aspiring 5-string bluegrass banjo players."
DA, New York, New York

Please check out more feedback about Bob in the Banjo Hangout teacher reviews.

Thanks for your interest!
Comments
---
There are currently no comments.


You must sign into your myHangout account before you can post comments.