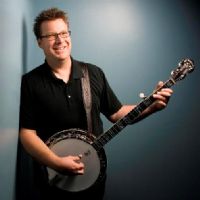 Teaches Lessons: Online, In Person
Styles: Bluegrass (Scruggs) , Clawhammer and Old-Time, Other
Levels: Beginner, Intermediate, Advanced
Teacher Since: 1981
Pricing: $60/hr or $100/month (4-30 minute lessons)
Listing Created: 11/17/2011
Listing Updated: 5/21/2013
More About Me
Ned plays banjo with Chris Jones and the Night Drivers and also tours with Stephen Mougin (of the Sam Bush Band) as Nedski & Mojo. Ned has also toured and performed with Tony Trischka's Double Banjo Bluegrass Spectacular Band, The Rarely Herd, Larry Cordle & Lonesome Standard Time, The Jim Hurst Band, Radio Flyer, Paul Adkins & The Borderline Band and the Apocalyptic Cowboys.

Ned teaches private banjo lessons in Nashville and now over the internet via web-cam! Visit http://nedski.com for details. Ned is a popular banjo instructor at music camps across the country and around the world, having taught at: Nashcamp, Munich Banjo Camp, Camp Bluegrass, B.C. Bluegrass Workshop, Midwest Banjo Camp and many more.

Ned is also an on-air personality on Sirius XM Satellite Radio's Bluegrass Junction. Ned is on the air Saturdays from 6:00pm - Midnight (est) and Sundays from Noon - 6:00pm (est). Tune in for Ned's "More Banjo Sunday" featuring the "Sunday Banjo Lesson" every Sunday at 3:00 (est).
Comments
---
I attended Nash Camp with Ned as one of the instructors this fall. He is an amazing banjo picker and a pleasure to be around. His teaching style was serious, yet very fun and interesting. I brought back some skills that I did not now I even had. One could not go wrong investing in Ned as an instructor. - dgill
Donnie - Thank you! Very nice of you to say!
Ned - Nedski
I was one of Ned's students for a couple years while he lived in Arkansas and consider him a friend. One of the great things about Ned (besides his wit and humor...and his hair) is his in depth knowledge of so many different styles. Whether you are interested in Scruggs, Crowe, melodic, backup, clawhammer, etc. or even want to learn rock, theme songs or classical, Ned can help you. He is on my list of "favorite players" and is truly one of the finest and most talented banjo pickers around. - rferg
You must sign into your myHangout account before you can post comments.