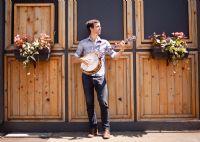 Website: bennettsullivanmusic.com
Teaches Lessons: Online, In Person
Styles: Bluegrass (Scruggs) , Classical, Clawhammer and Old-Time, Other
Levels: Beginner, Intermediate, Advanced
Teacher Since: 2005
Listing Created: 3/4/2012
Listing Updated: 12/24/2013
More About Me
Hey, my name is Bennett Sullivan. I play banjo and guitar, compose, and I have a passion for private instruction.
In my banjo lesson curriculum, I use unique methods that I've developed to help you become the best musician you can. A lot of what I cover in lessons has to do with practice habits, because I think that if you can become a good teacher for yourself, you'll be so much better off as a music student, and as long as you're a musician, you'll be a student :).
Are you this person?
You've tried to teach yourself using books, the internet, and DVD's, but you don't see yourself progressing the way you should be.

You know you have potential to sound really great, but something is getting in your way of your actually moving forward.

You absolutely love bluegrass and the banjo, and want to be an impressive, and musical player that everyone wants to play with(and hire :)
If you said yes to any of these bullets, then you should sign up for a free trial lesson with me. I can help you get to your next level.
I'm most passionate about working with intermediate to advanced players looking for more depth and musicality in their playing, but I enjoy working with all ages and levels of players.
Click here to sign up for a 30 minute free trial lesson!
About Me:
I'm passionate about teaching good practice habits. I think its one of the most important skills you can develop when learning an instrument. I love teaching bluegrass banjo because I know the joy that comes with having practiced a song and being able to play confidently and expertly, especially when you play with other people. I've been teaching students for 10 years, and I see teaching online as a way to make this essential information more available to anyone who is ready for it.
I've been featured on the front page of Bluegrass Today and the cover of Banjo Newsletter, and I'm currently playing banjo in the workshop of a show by Steve Martin and Edie Brickell.
"Lady Nora contains six contemporary banjo tunes, recorded flawlessly by Sullivan" - Bluegrass Today
"23-year-old guitar and banjo player Bennett Sullivan released his 6-song EP "Lady Nora" this spring. This is an auspicious debut." - Banjo Newsletter​
"IN ONE LESSON, I HAD LEARNED MORE THAN I HAD IN ALL MY TIME TRYING TO FIGURE OUT THINGS BY MYSELF!"
"I spent months trying to learn the banjo using books, videos and the internet. I wasn't making the progress I was hoping for and found Bennett through a lucky turn of events. In one lesson, I had learned more than I had in all my time trying to figure out things by myself. He's a great instructor, incredibly reliable and, most importantly, a lot of fun to learn from. I highly recommend anyone serious about learning how to play an instrument take lessons from Bennett."
- Eli (Computer Programmer, New York, NY)
"I PREVIOUSLY HAD NO MUSICAL BACKGROUND AND HE IS HELPING ME LEARN THE FUNDAMENTALS TO REACH MY BANJO GOALS, WHILE ANSWERING ALL MY QUESTIONS ALONG THE WAY!"
"Bennett is a fantastic teacher and multi-talented musician who has infinite patience and really focuses on what the student needs. I previously had no musical background and he is helping me learn the fundamentals to reach my banjo goals, while answering all my questions along the way."
- Melissa (New York, NY)
"AFTER A YEAR OF TAKING LESSONS WITH BENNETT, ALTHOUGH I STILL HAVE A LOT TO LEARN, I NEVER IMAGINED I WOULD BE ABLE TO HOLD MY OWN ON SOME BLUEGRASS CLASSICS I GREW UP LISTENING TO!"
"I have always wanted to learn banjo however was also very intimidated because as a first instrument, banjo seemed like it would be a challenge. After a year of taking lessons with Bennett, although I still have a lot to learn, I never imagined I would be able to hold my own on some bluegrass classics I grew up listening to. This is all thanks to Bennett's patience and teaching style tailored to my specific learning style. Not only is Bennett a fantastic musician but he is also a talented teacher!"
- Tori (Artist, New York, NY)
Comments
---
There are currently no comments.


You must sign into your myHangout account before you can post comments.