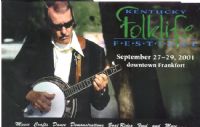 Teaches Lessons: In Person
Styles: Bluegrass (Scruggs) , Other
Levels: Beginner, Intermediate, Advanced
Teacher Since: 2000
Pricing: $15 per 30 min private lesson - Payable Monthly
Listing Created: 11/15/2011
Listing Updated: 11/15/2011
More About Me
I've been playing since 1974 and have played in a number of local bands. The band I'm in now came in 2nd at the Ky State Bluegrass Band Competition 2years ago. I teach Scruggs as well as Keith/Thompson Styles. I teach at Kentucky Music in Bowling Green as well as here in Munfordville.
Comments
---
There are currently no comments.


You must sign into your myHangout account before you can post comments.