View Don Borchelt's Homepage

Read Don Borchelt's Bio

Contact Don Borchelt
You must sign into your myHangout account in order to contact Don Borchelt.
www.banjr.com
Playing Since: 1967

Experience Level: Purty Good

Don Borchelt has made 55 recent additions to Banjo Hangout



Occupation: Retired, and picking more banjo

Gender: Male

Age: 66

My Instruments:
Vega tubaphone, semi fretless neck;
Paramount, semi-fretless neck, short-scale;
Paramount, semi-fretless neck, standard scale;
Fairbanks Whyte Laydie;
Gibson Mastertone 1928 TB-3 with Liberty conversion neck;
two other Mastertone clones and another Tubaphone.


Favorite Bands/Musicians:
Flatt & Scruggs, Stanley Brothers, Don Reno and Red Smiley, Roy Acuff and the Smokey Mountain Boys, Mississippi John Hurt, Dave Akeman, Tommy Jarrell, Tommy Jackson, Howdy Forrester, Carroll Best, Bill Keith, Alan Munde, and of course, my pals Ed Britt, Jim Reed, and Don Couchie.


Classified Rating: not rated
Rate this Member

Profile Info:
Visible to: Public
Created 11/4/2005
Last Visit 4/25/2017

Wednesday, June 11, 2014 @6:47:48 AM




On June 6, 2013, one year ago this month, the Banjo Hangout lost one of its own. Don Buedel, of Murphysboro, Illinios, known to most of us as "modon," passed away at the age of 59. I only knew Don from swapping tunes and stories online with him in the Banjo Hangout Chatroom, but I knew him to be a talented artst and a true gentleman, and considered him a dear friend. He is missed by all of us who haunt the chatroom instead of taking care of business, and it is not the same in there without him.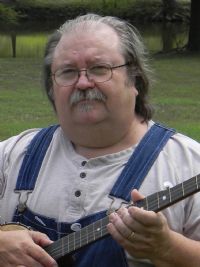 One night back in October, 2012, I heard Don fiddling a tune in the chatroom called Simon Stole a Turkey Egg. I'd never heard it before, and thought it was a cool tune, so I recorded the last few minutes of it, with the intention of learning it later. I have never heard anyone else play it, and I'm still not sure where he got it. Don had a fine ear for a good tune, and I had figured on learning it, but the world is paved with good intentions, and so I didn't get around to it until now. I have attached a video below; I am three finger picking my 1902 Fairbanks Whyte Laydie, in open D tuning.

Don must have been especially fond of the tune, because it is the first cut on the CD he recorded with Frank LeBlanc, called How the Cow Ate the Cabbage. I have the CD, and really enjoy it. I understand that Don's son Clay, also a BHO member, has some left. You can contact him through his BHO Homepage, to obtain a copy.

Don was a founding member of the Ozarks Heritage Festival in West Plains, Missouri. The festival folks have posted a tribute to Don on their website, which you can find here. Scroll about half-way down the page and you will find it.
Don died of a heart attack, quietly in his sleep. He passed far too young, but when my time comes, that's how I want to leave this earth.
Recent Forum Posts
Getting to know my new banjo (7 days ago)
Step Around Johnny (7 days ago)
Wes Muir's Tune, Three Finger Style (8 days ago)
Panhandle Rag (16 days ago)
Bluegrass Breakdown Video (16 days ago)
Two tunes from Kenny Baker (16 days ago)
Last Chance (16 days ago)
Delia's Dilemma (an "attempted murder" ballad) (16 days ago)
John Brown's March (16 days ago)
Hell's Broke Loose in Georgia- Three Finger Style (16 days ago)
BHO Film Festival (18 days ago)
Earl and Stringbean playing Herding Cattle (19 days ago)
Scruggs - modal ? (19 days ago)
TOTW (OT) 1/20/17-The Cowboy's Waltz (20 days ago)
If You Could Change Just "ONE" Thing About The Hangout ? (24 days ago)
Find all non-archived posts by Don Borchelt
Groups
Friends
Don Borchelt has 376 friends. View entire friends list.

Music (95 files)
Newest Photos