View Jim Yates' Homepage

Read Jim Yates' Bio

Contact Jim Yates
You must sign into your myHangout account in order to contact Jim Yates.
myspace.com/kirbyyatesmazurek

Playing Since: 1977

Jim Yates has made 216 recent additions to Banjo Hangout



Interests:
[Teaching] [Jamming] [Socializing] [Helping]

Occupation: music teacher/musician

Gender: Male

Age: 69

My Instruments:
no-name pre-war open-back, S.S.Stewart tenor, home-made fretless, home-made open-back.


Favorite Bands/Musicians:
John Hartford, Pete Seeger, Howie Burson, Mike Seeger, Tommy Thompson, Robin & Linda Williams, New Lost City Ramblers, Tom Paley, John Cohen, Red Clay Ramblers , Michael Cooney, Hedy West, Derroll Adams, Karen Dalton, Cathy Fink, Chris Coole , Arnie Naiman, Bob Carlin, Mac Benford, David Holt, Ola Belle Reed, Brian Pickell, Mac Benford, Wade Mainer, Roscoe Holcomb, Kate & Anna McGarrigle, Raymond McLain, Gus Cannon, Dock Boggs.
<><><><><><><><><><><><>
Also some friends from southern Ontario who may not be as famous, but I learn something every time I play with them or listen to them: Jay Edmonds, Rick Baur, Dennis Delorme, Karen Taylor, Kate Jarrett, Sam Allison and Teilhard Frost (who also builds wonderful gourd banjos)...
<><><><><><><><><><><><>

You will notice that all of these (except John Hartford, whose playing I have loved since I first bought Morning Bugle thirty years ago) are old-time banjo players, since this is the type of banjo music I enjoy playing. I have many favourite musicians who play 3-finger/bluegrass style banjo (like Al Kirby) and tenor banjo and who play other instruments, but if I put them all down the list would be too long for anyone to bother to read it anyway. I realize that some of the players I have listed are also bluegrass players, but their old timey style was what attracted me to their playing.

Classified Rating: 0
Rate this Member

Profile Info:
Visible to: Public
Created 2/21/2007
Last Visit 5/24/2013

Friday, May 24, 2013 @12:17:44 PM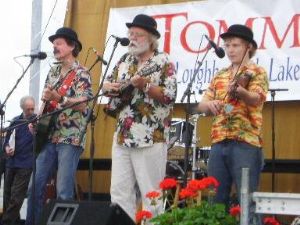 Ted Staunton, Jimmy Bowskill and I recently played a gig at the Greenbank Folk Club as The Maple Leaf Champions Jug Band. The woman who introduced us said,"This band really bridges the generation gap. There's a 45 year age span in the group." Guess which end I'm on.
You also know you're getting old when an instrument that you bought new is now advertised as "Vintage".
Recent Forum Posts
illegal to use cell phone while driving in state of IL (37 minutes ago)
bluegrass bands that dont have a banjo (3 hours, 46 minutes ago)
Tell Us About Your Banjo Ukes (4 hours, 0 minutes ago)
Karen Dalton (4 days ago)
I Just Got To Heaven And I Can't Sit Down lyrics (5 days ago)
Find all non-archived posts by Jim Yates
Groups
Canadian Pickers Eh
clawhammer curmudgeons
Banjo Players in GTA
Blues Banjo Players
Two Finger Pickers
It's UkuleleTyme
Gourd Banjo Owners and Builders
Banjo Uke Players Unite
View All of Jim Yates' Groups

Friends
Jim Yates has 137 friends. View entire friends list.

Music (1 files)
Newest Photos