View ZEPP's Homepage

Read ZEPP's Bio

Contact ZEPP
You must sign into your myHangout account in order to contact ZEPP.
zeppmusic.com
Playing Since: 1961

ZEPP has made 72 recent additions to Banjo Hangout



Interests:
[Teaching] [Socializing] [Helping]

Occupation: Owner, acoustic music store

Gender: Male

Age: 68

My Instruments:


Too many to mention, though my 1964 Ode bought new from Chuck Ogsbury has been a steadfast bluegrass friend, and the 1908 Fairbanks Imperial Electric no. 0 that I acquired in 1968 remains a favorite.



Favorite Bands/Musicians:


Again, just too many to mention, though Mississippi John Hurt and Doc Watson remain all-time favorites. If you catch me passively listening to recorded music, it's probably Bach, Handel, Vivaldi, Telemann, Haydn, Mozart or Beethoven, though.



Classified Rating: 0
Rate this Member

Profile Info:
Visible to: Public
Created 8/23/2003
Last Visit 5/17/2013

And we're off!
Friday, June 24, 2011 @4:24:33 AM

Well not quite yet. Or perhaps merely off our collective rocker.
You see, Carmen and I have had some health issues over the past few years, the nature of which has driven home to us in a very real and present way the fragility of our lives and the lives of those we love.
I already work from home as a stay-at-home dad (Benjamin will turn 4 this October...hard to believe!) and since his birth I have maintained (or at least attempted to maintain) the store's business operations and website from home whenever I can steal a moment (do the words "nap time" mean as much to you as they do to me?). I only go to the store physically to teach, record, or generally annoy the staff.
Couple this with Carmen's having reached a phase in her career where she can work from wherever we can connect to the 'net, and we have decided that being anchored down by possessions and a mortgage is probably not the best way to live.
Thus, we decided to make some changes. We have purchased a 35-ft 5th wheel RV. (You'll note Benjamin playing on the steps. And thanks to Mark Johnson for referring to him as a "Roads Scholar." I've borrowed that line...a lot!)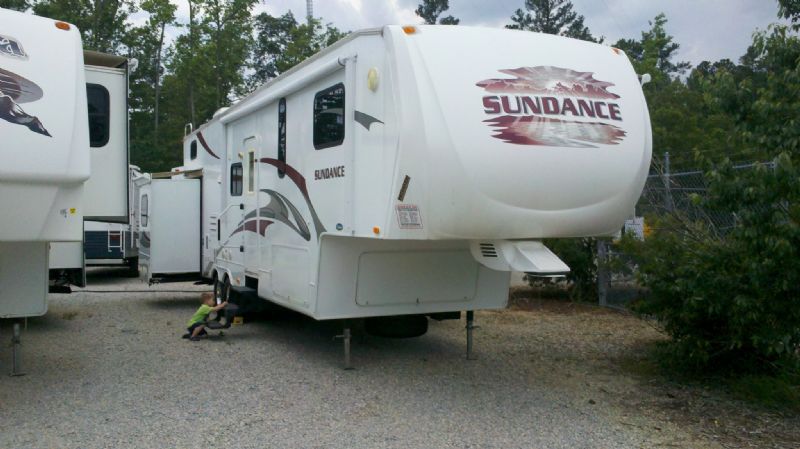 Needless to say, neither our New Beetle diesel nor our Subaru Forester (or the two, together, come to think on it) could pull this monster, so we have also acquired a hefty truck (an F350 7.3L diesel dually) to lug this thing around: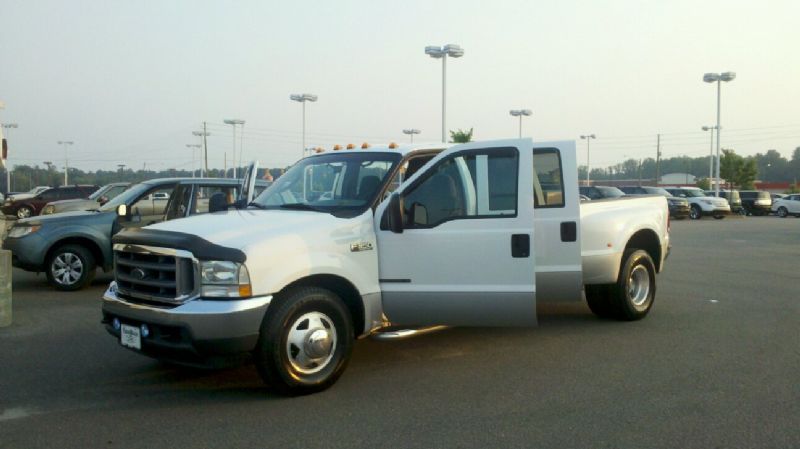 Next thing is to sell our house (we are already selling possessions right and left, including many of my personal instruments), and to hit the road! Of course, the housing market really, really sucks right now, but we are prepared to lose some money to get free of the mortgage. The plan is to move gradually into the RV, stage the house, and simply try to get away without having to take money to a closing. Once that's done, we'll be off!
We have no specific destinations in mind yet, but we have a whole lot of places we want to go and a whole lot of people we want to meet.
I hasten to reiterate: ZEPP Country Music is not changing: I shall continue to contribute to the its operations via the 'net, just as I do now, though I shall obviously have to give up local teaching. Once under way, I will be open to workshops and ad hoc ​lessons. I also hope to have time to offer some Skype lessons when Carmen is there to keep Benjamin out of the experience!
So things are changing. Watch this space.
---
18 comments on "And we're off!"
pammiec Says:
Friday, June 24, 2011 @5:12:20 AM

The very best of luck to you! Safe and fun journeys!
jamesd Says:
Friday, June 24, 2011 @8:38:08 AM

Good luck with your big adventure. I have thought of doing this , however, I just do not have the nerve. My best to to and yor family, and enjoy. James
Viper Says:
Friday, June 24, 2011 @9:00:26 AM

Wow, congrats. I would love to go completely mobile at some point in my life. If you ever make up to Northeast Ohio, look me up! Cheers!
RatLer Says:
Friday, June 24, 2011 @9:12:57 AM

Yep..."livin' the dream".....if ya'll ever get around Dayton, we'll do some jammin'

Happy Trails.......
Banjov1 Says:
Friday, June 24, 2011 @10:05:29 AM

Great stuff Zepp... My in-laws did this for 11 years and had the time of their lives. There will be minor inconveniances, but you get past that and really get to appreciate a lot more of this great country.

good luck
Spockears Says:
Friday, June 24, 2011 @11:38:13 AM

Good luck on your new adventures! That really is a monster of an RV. Doesn't look like you'll be missing too many home comforts in that!Have fun and safe journeys.
u k sandra Says:
Friday, June 24, 2011 @11:58:11 AM

It sounds like heaven. Have a wonderful time. I wish we were all going with you.
banjomikey Says:
Friday, June 24, 2011 @5:34:48 PM

I wish I could go! I've never been on a plane in my life, and I never been more south then Tennessee. Never been West either. Someday! Good luck on your travels!
Frisco Fred Says:
Saturday, June 25, 2011 @9:28:02 PM

Live free... know the moment
blockader Says:
Sunday, June 26, 2011 @12:21:17 PM

If you ever need a place to park in NE Georgia give me a holler. I'm a stay at home dad too so I'm always here at the farm. I'll even put the Tree and Shrub away for awhile. You will have to make a small sacrificial offering to either Flying Spaghetti Monster or Eris (all hail!) though.
ZEPP Says:
Tuesday, June 28, 2011 @9:25:37 AM

Thanks for all the good wishes. I sure hope we're at the nadir of the housing market. This could become difficult if things plummet any more!

And, thanks, Blockader. Careful, though, you may just see us pull up some day! :-)
Mark Johnson Says:
Tuesday, June 28, 2011 @1:37:37 PM

Awesome. I'm jealous. I sincerely hope to see you in Kansas sooner rather than later. We've got a big driveway, several spare bedrooms and bathrooms etc., not to mention a pile of banjos and barbeque.
Big Dan Says:
Tuesday, June 28, 2011 @10:45:18 PM

Bon voyage! Hope this chapter of your life is a great one. And on a more personal note; thank you so much for all the help and instruction over the years.

Happy trails.
fernando Says:
Tuesday, July 05, 2011 @6:12:23 AM

WOW! Brave!
I will miss your Youtube banjo tests!
Good luck in your journey and new adventure.
pastorharry Says:
Thursday, August 25, 2011 @2:15:35 AM

Great Zepp! Also my wife and my dream as well for....someday? BTW; does it have pontoons, Aloha,ph
ady Says:
Wednesday, October 26, 2011 @5:29:52 AM

i've just read you're blog and find it pretty inspirational, my wife and i have also reached the conclusion that life is too short and it sure isn't a rehersal so we are putting the wheels in motion to change it whilst our boys are still young.
so a big good luck from over the pond.

wss Says:
Thursday, November 10, 2011 @9:30:58 PM

Hope you have a great time. Before you head off watch the Albert Brooks movie Lost In America for some important travel tips.
banjodawg Says:
Thursday, December 29, 2011 @4:26:00 AM

My sister Meg, her husband Joe, and their three boys did the same thing a few years ago. I often marvel at their lifestyle as I commute 65 miles one-way to work in the Washington, DC area. They are in a warm state park in Florida at the moment...

Good luck to you! Please keep us posted so that we may live vicariously through you.
You must sign into your myHangout account before you can post comments.